If You Were to Live Here—The 5th Auckland Trienniel
Essays by Hanru Hou, Christina Barton, Pascal Beausse, and Felicity Fenner
Auckland Art Gallery Toi o Tamaki, 2013

"Amie Siegel" by Elizabeth Thomas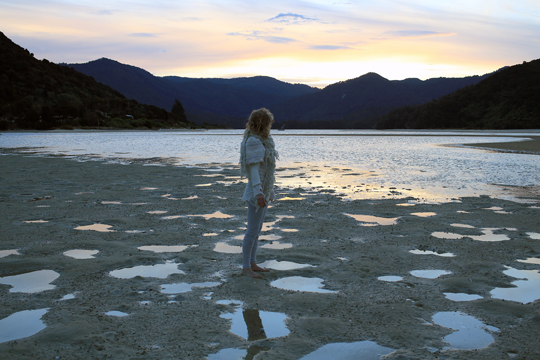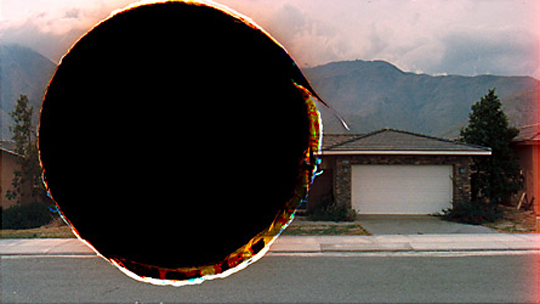 Amie Siegel's films subtly balance readings of the filmic—its specific histories, individualized languages, production conventions, and common tropes—alongside the political—specific social and economic facts, but also the larger institutional structures and patterns of human behavior that engender them. Although they often deal with factual information, Siegel eschews "documentary," either as an aesthetic language or a pretense to truth, instead layering the fantastical within the real, employing multiple genres to fold allusions among them, and reflexively commingling production and post-production to accrue subjectivities and speculations.

Black Moon (2010), a wordless 20-minute montage in which a band of women outfitted for warfare traverses a blighted suburban landscape looking for shelter, safety, and perhaps their enemies, appears deceptively simple on its surface, perhaps a kind of experimental, experiential science fiction. Its title connects it to the Louis Malle's 1975 film of the same name, an associative affair, wordless for its first 16 minutes, advancing its narrative (a surreal female coming-of-age-story) through "the characters' mysterious behavior itself," according to Malle. Siegel borrows some of the film's concerns—gender, violence, isolation, estrangement—along with its surrealism and muteness (itself paradoxically amplified by foreboding effects and highly constructed "ambient" sound), and transplants them to the present tense, inserting a gender-specific survivalism within the uncanny remains of the collapse of the housing bubble.

Comprising languid still shots and slow tracking shots, Siegel centers architecture and the landscape in the frame as much as the women, enacting a collusion of animate and inanimate in narrating the film's allusive journey. Lacking the specificity of dialogue, the film compresses time and space—the abandoned and foreclosed tract homes speak at once to this moment in time, and its financial and political exigencies, while simultaneously channeling Malle, science fiction films of the 1980s like Mad Max, and a kind of paradoxical future timelessness of post-apocalypse. And the barren landscape, edged by mountains and populated with palm trees, locates us in the geographic West, while it echoes the epic hardscrabble "West" of myth and film.

In Winter (2013), her commission for the Triennial, Siegel locates her film primarily in and around Ian Athfield's late 1960s compound of bleached and angular houses that ramble down the cliff above Wellington Bay, the structure's setting and iconicity reading with great specificity to New Zealanders, and its futuristic aesthetics channeling a kind of lingua franca of utopian architecture. Small groups inhabit these structures, their fear of the outside echoing sci-fi narratives of social and environmental isolation. The film is a gesture of condensation, collapsing the paradox of utopian promise and threats of nuclear war and power of the 1970s onto present day anxieties about global warming and climate change, and into some indeterminate future of ambiguous peril and uncertain survival. Like Black Moon, the setting drives the narrative as much as the character's accreted actions, locality serving as an aesthetic, cultural, psychological, and political trigger. Winter generates even more narrative complexity, as its production and post-production collide with its presentation in the galleries. Live iterations of the soundtrack will be enacted, layering voiceover and dialogue (newly scripted or appropriated from factual sources) with borrowed film scores, passages of other music, or electronic sound, creating shifting relationships between sound, text, and image, mirroring the cultural conditions of instability present in the film.

At its core Winter, like Black Moon, draws connections between the production and presentation of film itself and the metaphors it contains. Both employ open narrative structures, drafting spectators into authorial complicity, agglomerating associations within and across both films as they subtly appropriate real world situations and channel familiar fantastical narratives. In particular, Siegel's reliance on the image underscores how aesthetics (of architecture or film in this case) contain specificities and simultaneities, channel and shape psychology, mark and are marked by time, embody our hopes and anxieties of the present and the future, locate us geographically and culturally, and gesture to each other across time and space.