Flash Art
July–August–September, 2013

If You Were to Live Here: The 5th Auckland Triennial
by Natalie King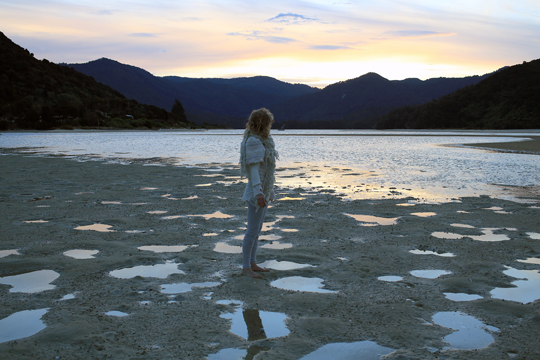 Thoughtfully choreographed, Hou Hanru's 5th Auckland Triennial mobilized eight venues under the rubric "If you were to live here..." Habitation, dwelling and place were enacted by over thirty artists whose work occupied interstitial spaces in the Auckland Art Gallery as well as the industrial waterfront district. Perhaps the most prescient intervention was by Paris-based collective Claire Fontaine, whose neon signs were exquisitely suspended in a room of 19th-century paintings. Like a prophetic epitaph, "foreigners everywhere" illuminated a conventional gallery in five different languages—except English. This insertion within the permanent collection set the tone for hidden narratives of migration, belonging and alienation.

Having curated at least 22 biennales, Hou imbued this smaller offering with notions of locality and place. Hou engaged the Pacific Rim with the inclusion of New Zealand and Australian artists while situating Auckland as "a proximity, an intimacy and, eventually, a home for us all." Extended to urban communities, Keg de Souza exhibited an inflatable canopy at Fresh Gallery Otara in a bustling Pacific market alongside a politically graphic mural by Black Panther member Emory Douglas with Rigo 23 and Wayne Youle. Ho Tzu Nyen's projection, reminiscent of a grand narrative painting, was positioned near religious depictions while his immersive, rock-induced surround sound with deranged characters shifted the Triennial from the political to the poetic.

Somber and melancholic, Luke Willis Thompson's memorial garage roller doors alluded to a local crime. Australian duo Claire Healy and Sean Cordeiro undertook a residency resulting in a dense configuration of locally procured domestic accoutrements, and New York-based Amie Siegel exhibited an alluringly anxious film of a lone female figure psychologically entrapped in Ian Athfield's late '60s compound of bleached, futuristic dwellings in Wellington's harbor.

At the Triennial's core was The Lab, an open, discursive platform with evolving content located at the Auckland Art Gallery. This intellectual and physical framework for inquiry, in partnership with local universities, was configured as a space for talks and workshops. The Lab comprised a series of interdisciplinary design projects including American architect Teddy Cruz working with local academics to envisage proposals for the rejuvenation of the Whau River area in Avondale. Mexican artist Abraham Cruzvillegas's projection featured static, urban takes interspersed with footage of couples fornicating. And Shanghai-based Michael Lin's life-size proposition for migrant worker housing, produced in collaboration with Japanese architectural collective Atelier Bow-Wow, rendered utopian housing in paper. Like a giant lantern, this diaphanous structure was precise and redolent with longing for occupancy, ensuring Hou's triennial was nuanced and intimate.