Whitney Biennial 2008
Essays by Henriette Huldisch, Shamim M. Momin and Rebecca Solnit
Whitney Museum of American Art, New York
Yale University Press, 2008

"Amie Siegel"
by Jason Edward Kaufman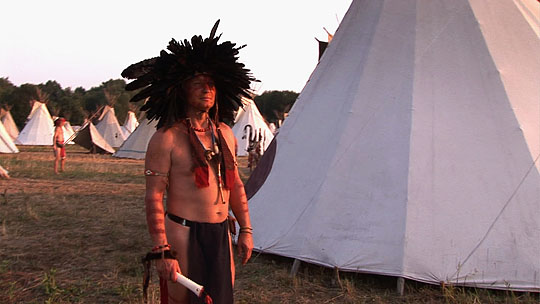 Amie Siegel's conceptual films and multichannel installations have been described as "uncanny reflections on absence, historical disorientation, and nostalgia." Recent works examine her adoptive country Germany, and its complex history provides rich material for Siegel's investigation of issues concerning cultural memory, identity, and the cinematic portrayal of place. Berlin Remake (2005) is a double projection that juxtaposes scenes from East German state films with Siegel's refilming of the found footage, replicating the original camera movements in the same locations—as Siegel describes it, "performing" the earlier film scenes as if they were musical scores. The collision of past and present blurs fiction and documentary to question assumptions about the fixity of time and place.

Rather than incorporating the rapid cutting typical of today's commercial movies, Siegel composes with long segments that require the viewer to make broad associative connections. "I have been at war with montage as cinema's main mode of expression and have been in search of other more accumulative and architectural modes of structuring film," she says. The technique is particularly absorbing in her 2003 featurelength film Empathy, in which a character's loss of identity is evoked through disparate episodes. Interviews with therapists about the role of voyeurism and desire in their practice accompany staged therapy sessions. The therapists also appear in real-life social situations with a patient and the filmmaker, further breaking down the boundaries between private and public life, filmmaking and psychoanalysis. A parodic section of the film about Freud's influence on modernist architecture and design adds a theoretical layer, exemplifying Siegel's belief that "abstract or philosophical ideas [should] have commerce with the quotidian."

Siegel studied American avant-garde film, but she is drawn to the "conceptual, Marxist, and politicized" mode of European artists including Jean-Luc Godard, Alexander Kluge, Chantal Akerman, and Hans Haacke, as well as Americans such as Yvonne Rainer and Susan Hiller. Siegel's affinity with their work is evident in her feature-length film DDR/DDR (2008). Like Empathy, the film is a mosaic of interviews and incidents that gradually connect, allowing issues of history, state control, personal identity, and memory to emerge. A man walking across streets and fields as if on a tightrope is a recurring motif—an apt metaphor for the East-West divide. The camera moves through derelict East German buildings and records a man throwing Stasi-style electronic equipment from a moving truck; East German emulators of American Indian culture explain that their hobby began as a clandestine cry for freedom from Soviet oppression. The sociocultural theme is complicated, however, by a former East German mother who reminisces about her family's more comfortable life before reunification. The ruminating psychological and intellectual content of Siegel's works posits that everything is subject to shifting interpretation.